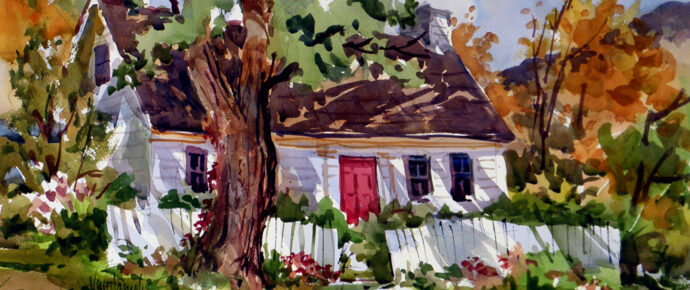 VERMONT'S RURAL LANDSCAPE
In the planning stage for 2022
VERMONT'S RURAL LANDSCAPE
Sponsor: van Hasselt workshops
Drive slowly and keep your camera handy because you'll find so many great subjects along the way to this exciting workshop location. You'll be ready to paint even before you get there. The hilly, winding road gets narrower, paving changes to gravel and just when you think you're lost – you have arrived at the Landgrove Inn.   The inn is a vintage 1810 farmhouse and homestead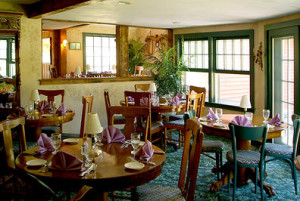 offering a welcome atmosphere with country charm and comfort in uniquely decorated guestrooms.  
Your inn reservation includes all meals which are deliciously prepared, while desserts are "over the top". Then there is the 24 hour tea and cookie station, plus a well-stocked bar, based on the honor system.  I find that eating together creates a more cohesive workshop experience and art is naturally, the topic of conversation.
 My primary focus is on the art of picture making, composition and design, applicable in any medium.  Demonstrations are in watercolor but students using acrylics are welcome.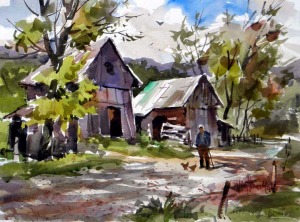 For studio    painters, this plein air workshops may serve as an introduction to working on location, while finishing touches can be added in this spacious studio.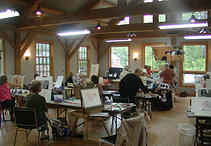 Enjoy demonstrations followed by lots of individual painting time and assistance. In the late afternoon meet in the studio for our sharing session. Since artists are visually oriented, I give not just verbal suggestions, but often paint them on a sheet of acetate placed over the art.  You may photograph the result and if desired, use it as a guide to complete the painting.  Your actual work is never touched. 
Tuition: $550.  Deposit $150.00. 
Check my books and DVD's below.