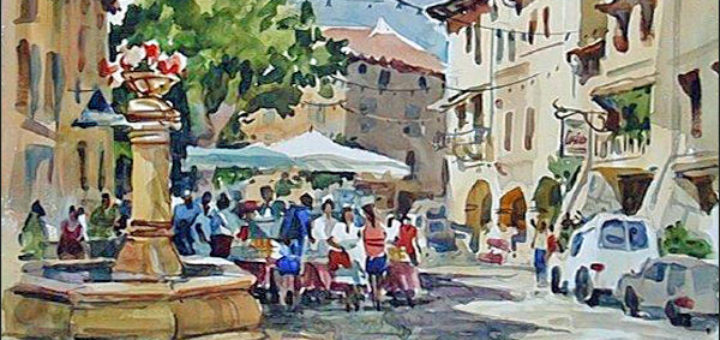 Click on this image to enlarge it.
September 25 to October 5, 2018
PAINT THE TUSCAN LANDSCAPE
Sponsored by by Cicely Carroll and Bob Lawson of Travel Fever Tours LLC
SORRY,  This workshop, limited to twelve students is closed. Please check in case of last minute cancellations.
Join me  on an exciting return, to sketch and paint in Tuscany, when Cicely and Bob lead us to some of the loveliest hilltop villages, surrounded by gently undulating vineyards and farmland.
This well-planned two-part adventure starts with an optional three day stay in Cortona, September 25 to 28. It allows for any jet lag adjustment and acclimating to the Italian pace of life. You may remember Cortona is the site famous for the book and film "Under 
the Tuscan Sun". This is a perfect opportunity to start your sketchbook journal, exploring interesting piazzas and back alleys. I will be doing the same and delighted to offer advice and guidance. These sketches and  photographs can later be used to develop into regular paintings. Participants will receive all the needed supply information.
The actual workshop week starts September 28 to October 5, as we head to Pienza, near Siena.  In the 15th Century, under Papal patronage, Pienza was rebuilt as an "ideal town".  To this day it is difficult  to tell whether the town is more pleasing or the lovely views across the Tuscan countryside.  Whichever, I will plan daily demonstrations and assist individually, while we explore Pienza as well as several picturesque villages nearby.  A day excursion to visit Sienna is also planned. (Another great sketching opportunity).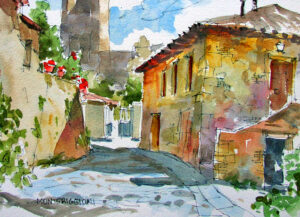 Although my demonstrations will be in watercolor, students using acrylics are welcome.  Even non-painters may wish to join this adventure to enjoy local cultural activities and those additional excursions in the area.  Plus of course, there will be wine tasting opportunities and sampling the Italian cuisine.
 Click here for news about our May 2019 workshop in Andalusia, Spain.