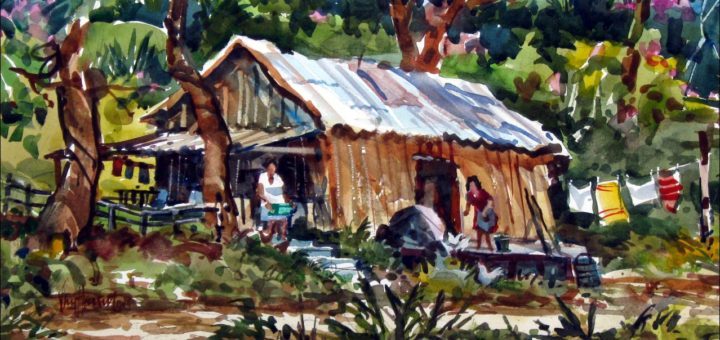 Click on this image to enlarge it.
February 22 to February 29, 2020
A TROPICAL ESCAPAINT IN MEXICO
Sponsor: Art Workshop Vacations 
Plan now for a winter break to paint in sunny Mexico! 
Feeling energetic and adventurous?  Then join my workshop in Boca de Tomatlan, truly a safe and peaceful little fishing village just south of Puerto Vallarta. (Yes, I said safe. Rest assured, our resident host would not offer this workshop if any chance of danger existed in his little village.)
However, watch your step, heading "over the river and through the woods" following a circuitous jungle path. You'll meet friendly locals, children, pets and chickens on the way to the Casa de los Artistas, where Robert Masla, our host and painter himself, bids you a warm welcome.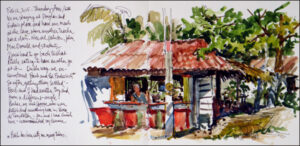 The workshop focus is on creating a sketchbook journal of your adventure as well as painting on location. A sketch can be developed into larger work in our spacious studio or later, at home. Great painting subjects await just outside the Casa gate. A sun-dappled beach shaded by enormous trees, sea and river scenes as well as boats and huts peaking through the foliage.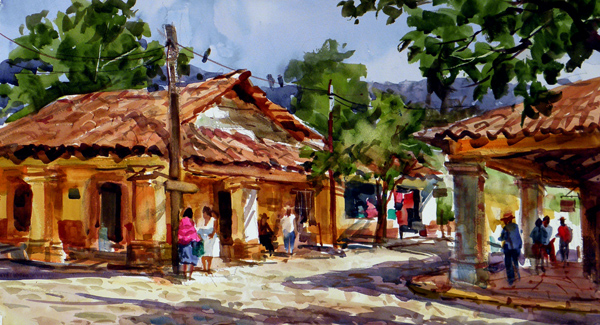 On a boat trip into the Bay of Banderas you can enjoy a swim, snorkel or just feed the fish. Later we land on a secluded beach for a picnic and fill more sketchbook pages. 
We'll also spend a day painting in a botanical garden and on another day, in El Tuito, a sleepy mountain town basking in the sun. To add finishing touches to the day's effort, head to our studio, available anytime. Later, it is time to relax, enjoy dinner and discuss the events of the day.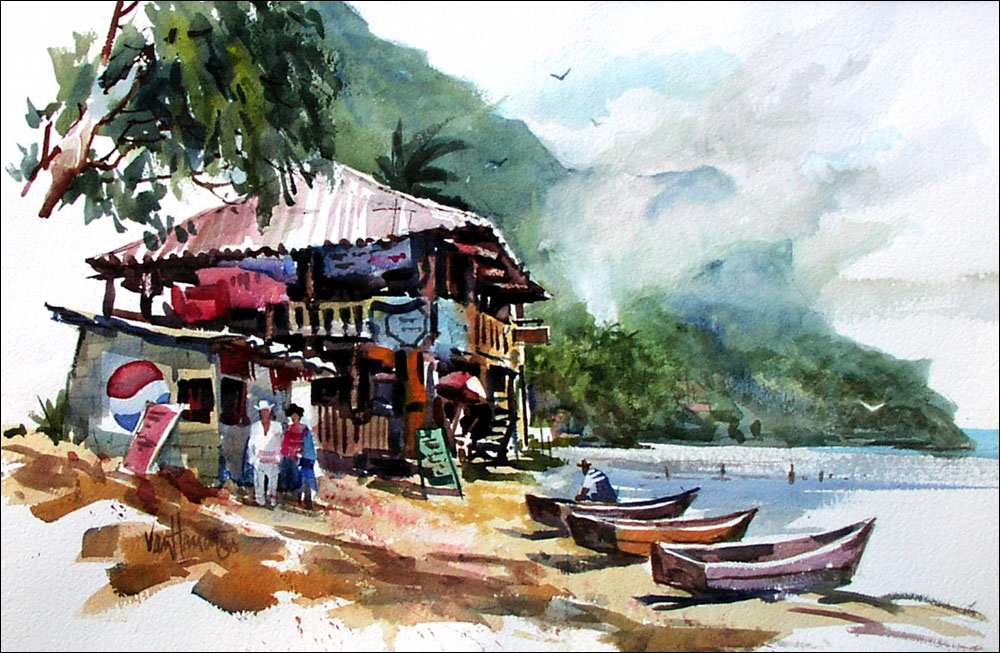 Wednesday morning I introduce my unique figure drawing system taught on the DVD Fun with Figures (see below). After some practice in the studio you'll have a chance to sketch those figures in Puerto Vallarta's main plaza.  Later, on the weekly gallery walk, take advantage of great shopping opportunities.
That evening, enjoy dinner at sunset, right on the beach at La Palapa.  It is the only meal not covered in this all-inclusive workshop price. 
Would you like to take a break from winter?   There is no extra charge for a single room. Even better, anyone joining before October 31, saves $100.00. Note on the Casa website below about payment due dates.
Click here to the Casa website and to register!  See you in "the Boca"
See my books and DVD's below.