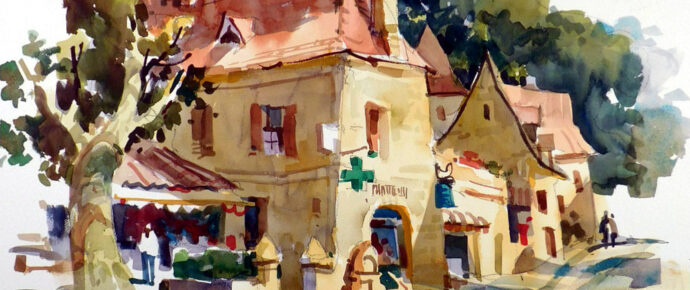 THE DORDOGNE – A FRENCH SURPRISE
TRULY A FRENCH SURPRISE . . .
WAITING FOR NEXT YEAR'S DATES 
To be organized by Cicely and Bob Lawson of TRAVEL FEVER TOURS.  
The author Henry Miller found the Dordogne "A country of enchantment".  So join our artventure in southwestern France.  Did you see the movie "Chocolat" with Johnny Depp and Judi Dench?  It was filmed in this area of small painterly villages, undulating countryside, and rocky bluffs topped by ancient castles.  And the majestic Dordogne River winds it way through it all.  We are delighted to return to this beautiful area, ideally timed to enjoy its Fall splendor.  I rediscovered this sketch made there on a previous workshop.  Jan and I look forward to have you join us in this "country of enchantment."
The group will meet in Toulouse, where you'll have a chance to rest up a bit at our hotel.  A welcome and get-acquainted dinner is planned for that evening.  The next day we are off to Sarlat-la-Canéda, a lovely and historic town in the heart of the Dordogne.  It has much to offer for the artistic eye.  From honey-colored buildings to plazas, narrow alleyways and outdoor cafes.  What a great opportunity to start using your sketchbook and an ideal preparation to develop those sketches into regular paintings.  I'll be happy to help along the way and of course, demonstrate individually as well as for the group.
Jan and I look forward to returning to the Dordogne and are delighted that Cicely and Bob are making all arrangements.  We prefer a small group of painters and spouses so urge you to click and explore the TRAVEL FEVER TOURS website link below for the dates, all travel plans and more details.  Bob Lawson will be delighted to answer all travel questions.
For any art related advice, simply contact me at tonyvhasselt@gmail.com 
AND PLEASE don't miss the books and DVD's displayed below.  Click on each image for details.  Thank you!