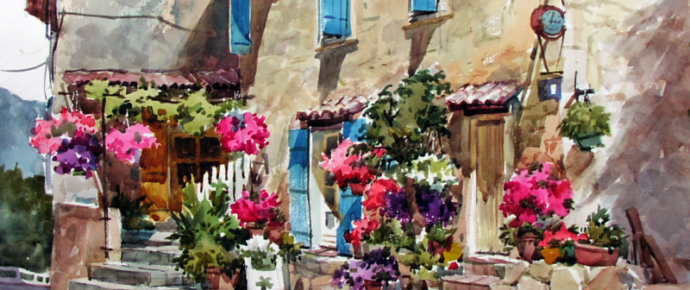 PAINT VILLAGES OF THE PROVENCE
 Sponsors: Cicely and Bob Lawson of Travel Fever Tours
Join us in Vaison la Romaine, a bustling market town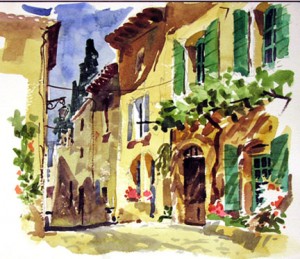 with a historic medieval section offering  crooked little streets, tinkling fountains, soft ochre houses and red tiled  roofs. There are painting  subjects wherever you  look.
Outings are planned to nearby villages, where you'll have time to explore, paint or sketch.  Although drawing basics come first, the focus is on the art of picture making, design and composition, applicable in any medium.  Demonstrations will be in watercolor.  Artists using acrylics are welcome to join.
We'll also focus on creating a sketchbook journal of this adventure as depicted in this entry below.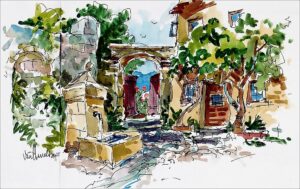 Travel light and record what you see. Then, in the hotel or back home, develop that sketch into a larger painting as seen below.
You will enjoy demonstrations and have time to paint while Tony offers personal assistance when requested. 
During sharing sessions, He'll discuss how the day's work might be improved. Since artists are visually oriented, he offers not just verbal suggestions, but often paints them on clear acetate placed over your effort. You may photograph the combined result and use it as a guide to complete the work.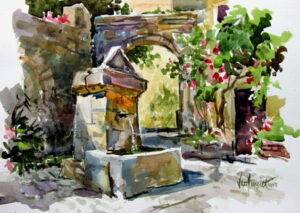 Here is that larger painting based on the above drawing in my sketchbook.
Non-painters are welcome and enjoy a special discounted rate.
For more details  and to register for this workshop, click on https://www.travelfevertours.com/provence-france-september-2021