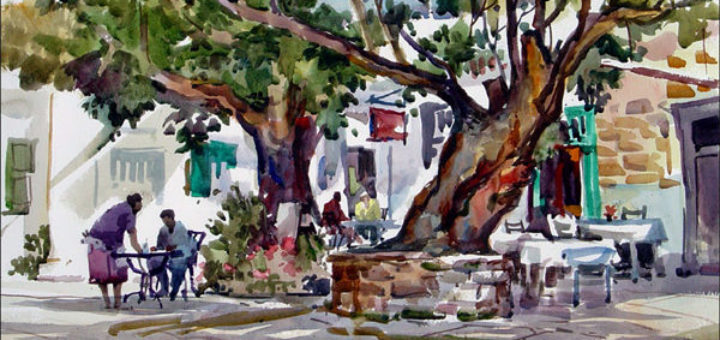 Click on this image to enlarge it.
April 30 to May 10, 2019
This workshop is sponsored by Travel Fever Tours.  Meet Cicely and Bob Lawson our hosts of this painting and sketching artventure in southern Spain.
I had the pleasure of being with Cicely and Bob while teaching in Tuscany last Fall.  They are well traveled, have lived in Spain and offered the opportunity to teach this workshop. It has been years since painting there, so of course, I accepted.  Come join us to paint and sketch in Andalucia, Spain as we visit one of the loveliest white villages surrounded by a gently undulating countryside.  Paint in watercolors or acrylics and do take a sketchbook.  As on our last workshop, the group is limited to just twelve participants, which includes spouses and friends.  A small class, so early registration is recommended.   
This is a two-part artventure, starting with an optional three night stay in Seville, April 30 to May 2.  Allow yourself some jet lag adjustment time and acclimate to the Spanish pace of life. 
 You may want to explore Seville, visit the Moorish palace, wander the former Jewish quarter and discover other sites.  Then just relax in one of the famous tapa bars.  What a perfect opportunity to start your sketchbook journal, exploring interesting plazas and back alleys. I will do the same and delighted to offer advice and guidance along the way.  Sketches and photos can be developed into paintings during the workshop or later at home.  
The workshop starts May 3 to 9, as we head to Zahara de la Sierra, a classic white Andalucian village or "Pueblo Blanco", offering fabulous views across the valley, the lake and mountain ridge capped by a Moorish castle.  This village and breath-taking setting makes it a perfect home base.  Enjoy authentic Spanish food and culture at a family-run hotel in the quiet hills at the edge of town.  Beside the subjects in and around Zahara, we will also visit nearby Ronda, a gorge-straddling hill town made popular by Ernest Hemmingway.  
During this workshop, I will plan daily demonstrations, encourage sketchbook journaling and assist on an individual basis.  Afternoon "sharing sessions" are held, to explore how an effort might be improved.  Actual work is never touched.
CLICK HERE for more details about your ANDALUCIAN ARTVENTURE
Above, CLICK chapters to access teaching details.
Below, CLICK on any DVD or book for details.